Creative Collaboration Yields Results
The Gira Medical Building
When Eyecare Partners LLC, headquartered in St. Louis, Missouri, was ready to add a new clinical building to its portfolio, A.J. Brown was the obvious construction partner for the project. We've worked with Eyecare Partners and its Chief Medical Director Joseph Gira, MD, for more than a decade to construct a family of facilities. Architect John Mueller, a managing partner with JEMA Architects of St. Louis, managed the design side of the collaboration.
The project, known as the Eyecare Partners Center, is located in St. Charles County, where it sits next door to the St. Charles Surgery Center, also built by A.J. Brown.
The new building was designed to complement its sister facility. Its specs include:
12,390 square feet: 6,257 square feet for Tenant A; 5,430 square feet for Tenant B. Both tenants share a 703 square-foot common area.
One level, slab-on-grade, structural steel.
Flat roof with perimeter brick veneer and glass and glazing. The brick and glazing systems were designed to complement the streetscape. The glazing system offers high-level thermal resistance, UV protection and integrated color.
Framing system with a "fin" that assists with thermal control and adds an aesthetic element to the building's appearance.
This project came together during the COVID-19 pandemic, requiring extra diligence in managing permits and other paperwork as most city officials were working from home. In addition, we designed our production schedule to the requested completion date that suited Eyecare Partners and Dr. Gira, who would ultimately occupy the larger of the two spaces in the new building.
The A.J. Brown onsite construction team also managed all the complications of keeping a construction crew safe during a pandemic.
The facility, completed in November 2020, included finishes in the common area: an entry foyer with floor tile and wall covering, and two gang restrooms with tile flooring, wainscot tile and wall covering. A separate contract with Dr. Gira included build-out of his space to be completed at the same time as the building shell and site.
Dr. Gira's medical space includes 14 lanes (eye exam and procedure rooms), in addition to reception, waiting, breakroom, optical shop and scheduling rooms. This portion of the facility also includes a call center and physician's office.
Our experience and expertise allowed us to assist in problem-solving and refining some of the design aspects of the project. Architect John Mueller notes: "A.J. Brown worked with Dr. Gira to design an elegant solution that gave the building a full glass curtain wall on the north and east sides of the building. As a result, the client has a facility that will stand out from the competition."
"The entire project, from start to finish, went smoothly. And everyone I worked with at A.J. Brown was professional and knowledgeable. I wouldn't build with anyone else!" 
Dr. Joseph Gira
Owner
Gira Medical Building
Spotlight: St. Louis Holocaust Museum
Construction has begun on the $21 million dollar expansion of the St. Louis Holocaust Museum. A.J. Brown is the general contractor for the project. The museum, one of 22 Holocaust museums in the U.S., is being renamed the St. Louis Kaplan Feldman Holocaust Museum in honor of the family of Gloria Kaplan Feldman, a St. Louis-based survivor of the Holocaust with a history of philanthropy in support of the local Jewish community. Completion of the project is scheduled for 2022.
The expansion, situated on the Millstone Campus near the northwest corner of Lindbergh Boulevard and Schuetz Road, is intended to replace the existing museum. It will be four times larger than the original facility, with additional space to be used for display of artifacts and mounting special exhibitions. Additionally, a new multipurpose area will seat 250 visitors. The new facility will aid in the museum's mission to preserve the legacy of the Holocuast and empower visitors to make the world a more tolerant place.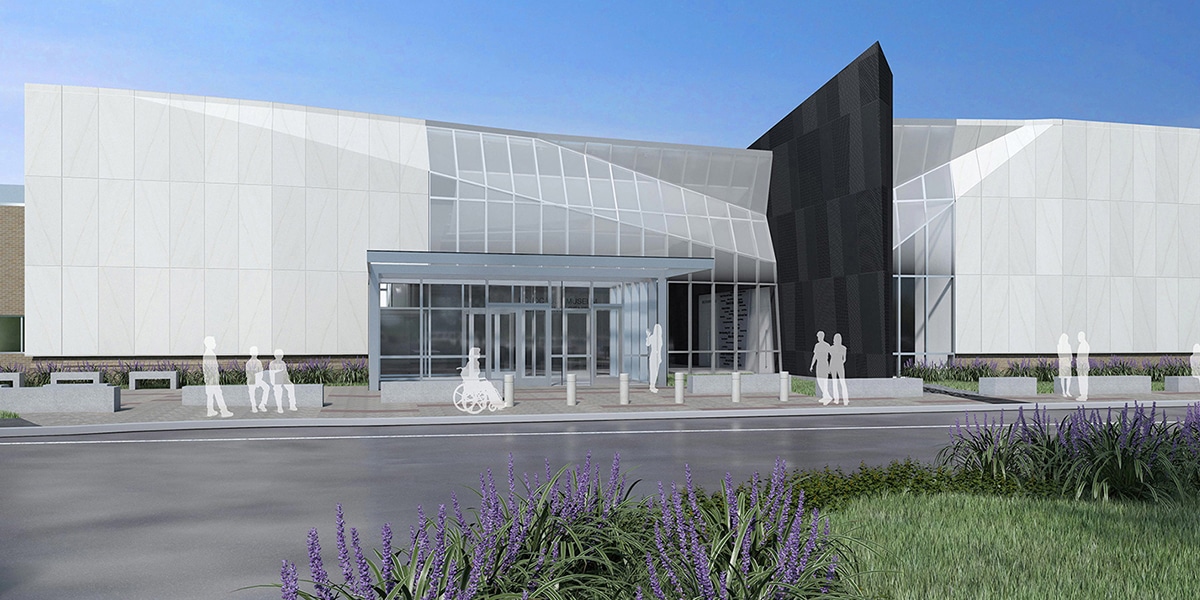 RENDERINGS COURTESY OF TR,I ARCHITECTS
Working for you
A.J. Brown is committed to clear communication and time-proven management strategies, all designed to deliver a construction project that meets client goals. "We make it our business to understand our clients' business objectives so we can help them succeed," says Rendleman. "We're here to make you look good."
If you're looking for the right partner for your next construction project, talk to A.J. Brown. You can reach Doug Rendleman at 636-537-3636.