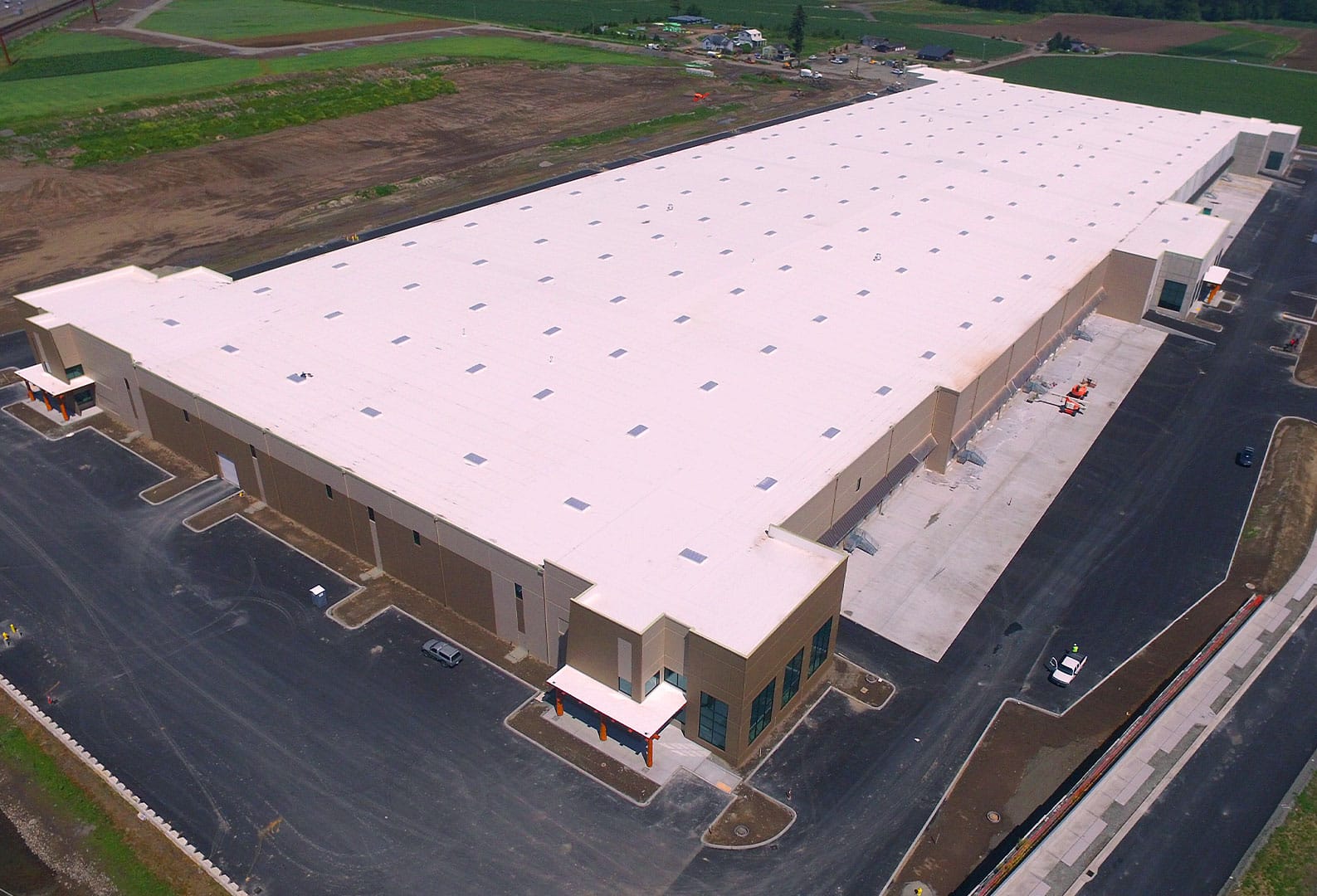 The Viking Building: A Multifaceted Construction Project
The Viking Building is part of a real estate developer's plan to construct a family of distribution warehouses on a 20-acre industrial park near Puyallup, Washington. When the developer signed a contract with its partner, Delaney Construction, to begin work on the building, A.J. Brown, a 50% partner in Delaney, assumed responsibility for all field staffing, labor needs and accounting requirements for this project.
The building, a 438,000-square-foot warehouse, called for the following specs, among others:
Tilt-up construction
Six-inch slab on grade
Height of 44 feet
60-millimeter TPO roof
Custom canopies of red cedar
Project scope
The Viking project also required A. J. Brown to undertake a number of correlated construction and installation projects. For example, we constructed a gravity sewer at depths greater than 20 feet to connect to the adjacent lift station. And to facilitate access to the Viking Building, we constructed more than 1,800 linear feet of expanded right-of-way, including a heavy-haul paving section, sidewalk with curb and gutter, new street lighting and landscaping.
We also built a storm conveyance line using both slide-rail shoring and box shoring, and we constructed an outfall structure for the conveyance line. Because the line is connected to the Puyallup River, we coordinated these activities with multiple permitting authorities, as well as the local offices of Washington Department of Fish & Wildlife and Native American tribal authorities. Over the years, we've learned that our expertise in communicating with local and regional agencies makes any construction project much easier to manage—for us and for our clients.
Troubleshooting
Construction projects like this one rarely proceed without obstacles, and the Viking Building was no exception. We have the expertise to manage these complications and keep projects moving forward.
For the Viking Building, we worked to address:
Lack of access: We constructed more than 3,000 linear feet of access roads so trucks could access the building site and to allow expansion of the right-of-way.
Multiple municipalities: Because the Viking Building project required oversite by the City of Puyallup and its county, we managed communications, inspections and permits with multiple municipal agencies.
Groundwater and soil conditions: The Viking site's high groundwater and wet soil created significant issues. We worked with the Department of Ecology, as well as city and county agencies, to evacuate water to the Puyallup River. We also took extra measures to ensure the structural integrity of the building.
Spotlight on Culligan
Culligan Water was ready for a new location in Chesterfield, Missouri, and hired A. J. Brown to undertake the renovation of a 5,600 square foot building it had acquired. We demolished the existing partitions, ceilings and floors, then put in new ceilings and flooring, bathrooms and a breakroom. We also renovated the adjacent 31,000-square-foot warehouse, installing new trench drainage systems and adding truck ramps and automatic garage doors. We installed a new building automation system, added digital HVAC controls to existing equipment and upgraded the fire-alarm system as part of our work to bring to code a building that had been vacant for nearly a decade.
Due to the coronavirus pandemic, communication became an especially important element of this project. We worked to ensure pandemic-related material procurement problems didn't cause delays. And we used teleconferencing and other digital tools to maintain a close and productive working relationship with Reed Robinson, the project's architect, who is located in Minnesota.
"When the project took an unexpected turn thanks to the pandemic, I was unable to visit the site as I usually do. A. J. Brown made sure the project stayed on track, using timely drawings and meetings that kept me informed. I quickly came to trust you had the client's best interest in mind. You've done a remarkable job in difficult times." 
Reed F. Robinson
Principal/Architect
WJR, Inc.
Working for you
A.J. Brown is committed to clear communication and time-proven management strategies, all designed to deliver a construction project that meets client goals. "We make it our business to understand our clients' business objectives so we can help them succeed," says Rendleman. "We're here to make you look good."
If you're looking for the right partner for your next construction project, talk to A.J. Brown. You can reach Doug Rendleman at 636-537-3636.